Elevator Sump System with Little Giant 1/2 HP Sump Pump and Oil Detection System
Print
1/2 HP SUMP PUMP, 36 FT MAX HEAD, 67 MAX GPM
The Elevator Sump Water Removal System is used in elevator sump pits to remove water while retaining oil and other hydrocarbons. Water and oil fill the elevator sump pit. As the sump is filling, the oil will float on top of the water. This layer of oil will not be pumped from the tank. The water underneath the oil will be pumped out through the discharge pipe to the sewer or other proper disposal area.
In Stock

Item #:ELV10EC-7410
Manufacturer: Septic Solutions
Little Giant 10EC Series Specifications

1/2 HP, 115VAC, 6.5A, 60 Hz
67 GPM @ 5ft of Head Pressure
Shut Off: 36ft, Max GPM: 67
1-1/2'' NPT Vertical Female Discharge, 3/4'' Solids Handling
Complete Heavy Duty Cast Iron Construction

Dimensions: 8.79'' L x 8.48'' W x 10.90'' T
Three Year Warranty
Oil Alert™ Control Features
120 VAC, Single Phase, 0-15 FLA
One Preset Level Sensor For Easy Installation
Operates With All Pumps Approved for Sump Pits
Remote Alarm Included
NEMA Type I Enclosure
ASME A17.1 COMPLIANT
Dimensions: 9.75'' H  x 5.02'' W x 5.25'' D
Oil Alert™ Operation
On liquid rise, level reaches pump "start" probe to start the pump. Pump will remain on until level is below "off" probe. The "off" probe senses air or oil and turns the pump off so the oil layer will not be pumped out of the tank. If the level reaches alarm probe and mechanical float, the system will differentiate between water and oil and activate the remote alarm.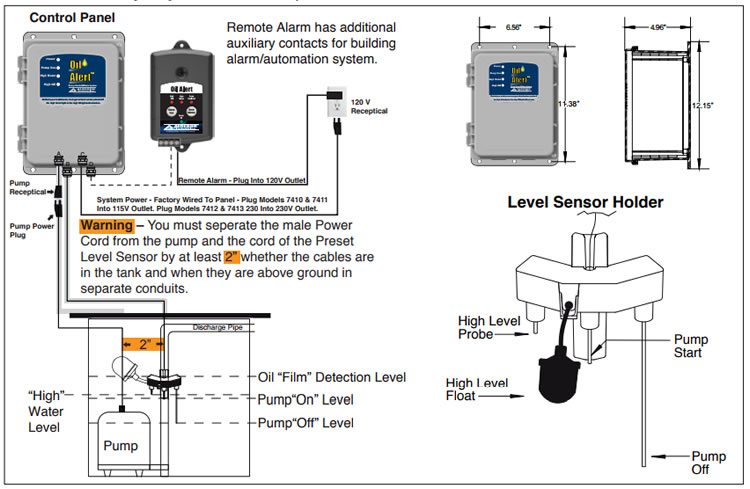 Products Other Customers Were Interested In: