Jet Alternative Replacement Aerators
---
ULTRA-AIR® MODEL 735 RED SEPTIC AERATOR
The Ultra-Air® Model 735 RED is simply the best alternative replacement shaft aerator for Jet aeration systems available on the market today. The Model 735 RED will work as a replacement for Jet OEM aerator models 660, 665, and 700LL, as well as any other Jet Aerator model. 
The Ultra-Air® Model 735 RED has not been tested or approved by NSF for use on Jet systems.
ULTRA-AIR® AERATOR FEATURES AND SPECIFICATIONS
12'' RED Brackets fit 10'' Diameter Opening
Drop-in Alternative Replacement for Jet Aerator Models 660, 665, and 700LL
Works with Existing Alarms and Control Panels
Heavy Duty Motor Designed for Continuous Operation
Very Quiet and Energy Efficient! Uses only 3.5 Amps
Aerodynamic Aspirator Tip Increases Motor Longevity
Motor Shield Protects Motor From Moisture and Tank Debris
Very Easy To Install! Simply Lower the Motor Into the Tank by the Motor Handle and Plug It In!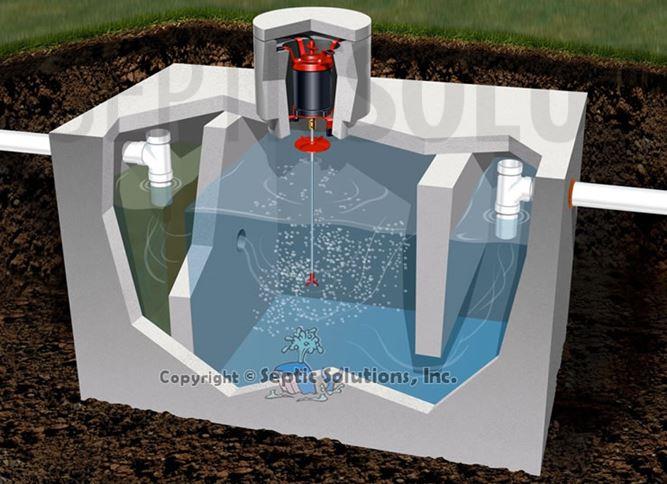 MADE IN THE USA!
The Ultra-Air Model 735 aerator is made 100% in the USA! The electric motors are made specially for Septic Solutions by Baldor Electric Motor Company in FT. Smith, Arkansas. The plastic parts are manufactured in Indiana from molds owned by Septic Solutions, Inc. The brackets are stamped, bent, and powder-coated right here in our hometown of Dieterich, Illinois. The shaft and brass couplings are also machined right here in our hometown of Dieterich, Illinois. The units are assembled, boxed, and shipped from right here at Septic Solutions facility in Illinois. With the Ultra-Air Model 735 you are getting a quality product that has been manufactured and assembled 100% in the USA!
STANDARD VS FLOOD RESISTANT.....HOW DO YOU CHOOSE??
The Ultra-Air Model 735 RED Standard comes with our basic AC electric motor. The Ultra-Air Model 735 RED Flood Resistant aerator comes with the White Splash electric motor. While the White Splash motor has the same specifications as the Standard, it has been sealed on the outside with epoxy-based paint, it comes with rubber shaft seals to prevent water from penetrating the motor housing around the shaft, and the motor windings are coated in epoxy to prevent moisture from affecting them.
If your system is susceptible to backups and floods, we would highly recommend purchasing the Flood Resistant unit.
Jet is a Registered Trademark of Jet, Inc.
Please Review Our Disclaimer before making any purchases
Septic Solutions, Inc. purchased these Ultra-Air air pumps directly from Ultra-Air's authorized distributor. Septic Solutions, Inc. is offering these pumps and parts as alternative replacements that are comparable to your existing Jet aerator, Norweco aerator, or other Septic Tank aerator. The Ultra Air was not tested on an NSF Certified Aerobic system as is required in some areas. It is the sole responsibility of the purchaser to check with their local regulatory authorities to ensure compliance.