$50 Pump Exchange Program
Save on a new pump by letting us buy your old one from you!  During checkout you can request a prepaid label to return your old unit (a model number must be supplied to qualify). Once you receive your new pump, simply put your old pump back in the same box your new one comes in and use the prepaid shipping label provided to ship it back to us. You will then receive a $50 check provided your old air pump is economical to repair. 
Although Septic Solutions will do everything possible to rebuild your pump making it eligible for this $50 program, we cannot and will not know if this is possible until we get your old pump and allow our technicians to take it apart and check it out.  Your pump may be a different color, have a different aerobic company name, or look a bit different than the ones shown below but may still be one of these models.  If you have any questions, or if you aren't sure of your model, please call us toll free at 1-877-925-5132.
PLEASE NOTE: SHIPPING LABEL MUST BE REQUESTED AT TIME OF ORDER!
ENTER THE MODEL NUMBER AND THE BAR CODE SERIAL NUMBER OF THE PUMP YOU WISH TO RETURN IN THE COMMENTS SECTION DURING CHECKOUT AND A SHIPPING LABEL WILL BE SENT WITH THE ORDER. WE DO NOT ACCEPT PUMPS BACK THAT ARE OLDER THAN 8 YEARS. THE BAR CODE SERIAL NUMBER WILL ALLOW US TO DATE THE UNIT.
WE ONLY ACCEPT THE MODELS BELOW FOR OUR PUMP EXCHANGE PROGRAM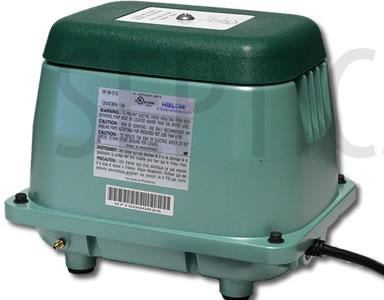 Select Hiblow HP Models:
HP-80, HP-100LL,HP-120LL, HP-150, HP-200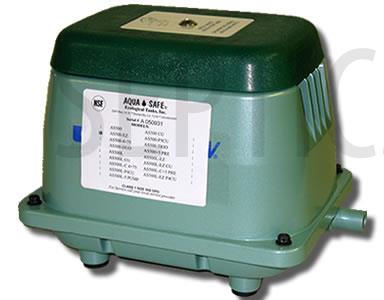 All Aqua-Safe/Aqua-Aire Models:
AS500, AA500, AS750, AA750, AS1000, AA1000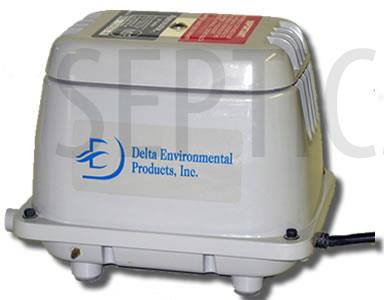 Delta Whitewater Model 80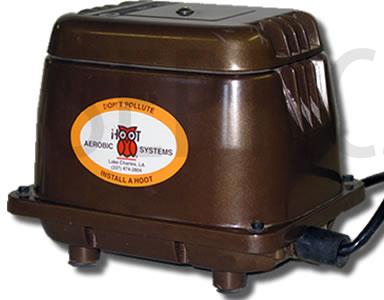 Hoot Troy Air Models: H450, H500, H600, LA500, LA600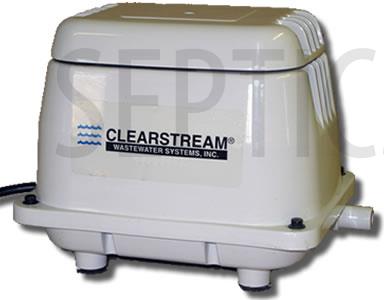 Clearstream Models: CS103EL, CS103FL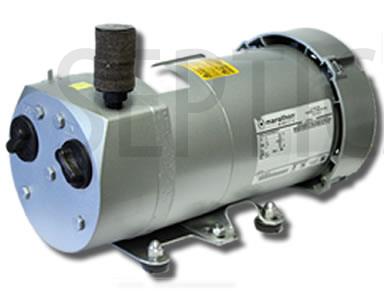 Gast Rotary Vane Model AT05
INSTRUCTIONS FOR SENDING BACK YOUR OLD PUMP:
Package pump securely back in the box your new one comes in.
When purchasing your new pump, either email us at sales@septicsolutions.com or please note it in the special instructions box on the order page to let us know you will be sending back your old pump so we can include a prepaid FedEx or UPS return shipping label with your order. You must specify the brand and/or model number and the approximate age of the pump.
Peel any labels off the outside of the box your new pump comes in and stick the new FedEx or UPS prepaid return shipping label provided on the outside of the box.
If the carrier for your label is FedEx, drop your package off at a place that ships FedEx or give it to your FedEx driver, if the carrier for your return label is UPS, drop your package off at a place that ships UPS or give it to your UPS driver.

Please allow 4-8 weeks for us to check your pump. At that time, you will then receive a $50 check it we were able to rebuild your pump. If we were not able to rebuild your pump you will receive an email explaining why it was not repairable.
Septic Solutions' responsibility to those who send failed pumps back to us, is to do everything possible to rebuild your air pump. However, if your pump is not repairable, our sole responsibility is to email you notifying you that your pump was not repairable or it would be too expensive and impractical to rebuild. Although many of the pumps sent back to us are repairable, Septic Solutions makes no guarantees and will not ship failed pump back to original owner unless a prior request has been made and return shipping is paid by original owner. This program applies to residents in the lower 48 United States and does not include residents of AK, HI, or other countries. Due to the additional shipping expenses to these regions we are unable to offer a prepaid label for the core exchange program.