Shipping Details
Septic Solutions® offers FAST and FREE same day shipping on MOST items. Please see detailed information on our shipping process below:
SERVING YOU DURING THE COVID-19 PANDEMIC:
Septic Solutions believes our role of serving the wastewater industry during the COVID-19 outbreak is a critical one, and we want to make sure our customers can get the items they need, when they need them. We continue to accept, process, and ship all of our orders. Septic system service providers, plumbers and industry professionals, and homeowner's and DIYer's can be assured that Septic Solutions will continue to provide our essential and high level of customer service during this time without interruption. At this time we are still shipping most orders placed by 2PM CST Mon-Fri the same day as we do usually.
Due to supply shortages from a few manufacturers, certain products have longer than normal lead times to arrive in our inventory. We keep the stock information on our website updated daily, and any products that are temporarily out of stock are noted on the product page. If the item is marked "In Stock", then the item is available to ship immediately. If the item is marked "Out of Stock - More On The Way", please check the dates given on that specific product page of when we expect our inventory to be replenished.
Our delivery service providers (FedEx and USPS) continue to operate, but due to the high volume of shipments going through their networks, some packages may be delayed by 1-2 business days. Most of our orders continue to be delivered within 1-4 business days from when the order is placed.
FEDEX EXPRESS MONEY BACK GUARANTEE SUSPENSION:
FedEx has suspended all money back guarantees on Express shipments until further notice. This includes the shipping methods of Priority Overnight, 2 Day, and 3 Day Saver. This means that FedEx will NOT refund ANY expedited service fees for the Express services if the packages do not arrive by the standard service time. While most of these packages are still arriving during the standard service times, Septic Solutions will not be able to refund any expedited shipping fees for late arriving packages until FedEx lifts this suspension. More details can be viewed at the link below:
While we have closed our offices and facilities to in person customers and visits, our customer service team will continue to be available during our normal business hours of Mon-Fri from 7:30am to 4:30pm CST via phone at 877-925-5132, email at sales@septicsolutions.com, or online Live Chat on our website. 

The Septic Solutions team is committed to continue providing the wastewater community the essential products you need. Please contact us if you have any questions or concerns, and stay safe out there!
Septic Solutions Team
MOST ORDERS SHIP THE SAME BUSINESS DAY

Most orders placed before 2pm CST will be shipped the same day. Orders placed after that time may still ship the same day, but most will ship the next business day.
When your order has shipped, you will receive shipment notification and tracking information via email.
FREE SHIPPING ON MOST ITEMS
All items marked with the FREE SHIPPING logo in the listing are eligible for our FREE SHIPPING promotion. This FREE SAME DAY SHIPPING option applies to business days, as most shipping carriers do not pick up or deliver on weekends or Holidays. Most orders will be delivered between 1 to 4 business days from the the day the order was placed. Items will ship via FedEx or USPS Mail at our discretion.
ORDERS SHIP VIA FEDEX, USPS MAIL, or LTL FREIGHT
When the FREE SHIPPING option is selected, we will ship items via FedEx or USPS Mail at our discretion. Most items weighing over 2-3 lbs are shipped via FedEx Ground or FedEx Home Delivery.  Most items weighing under 2-3 lbs are shipped via USPS Mail.
Some items will ship via LTL Freight. This is noted in the product listing and generally there is an additional charge for LTL Freight shipping items. 
WHEN WILL I RECEIVE MY ORDER?
Most items shipped via FedEx Ground or Home Delivery should arrive within 1-4 business days of being shipped. Look at the map below to determine actual shipment time as many areas will receive shipments before that time. Items shipped via USPS Mail should also be received within 1-4 days of being shipped.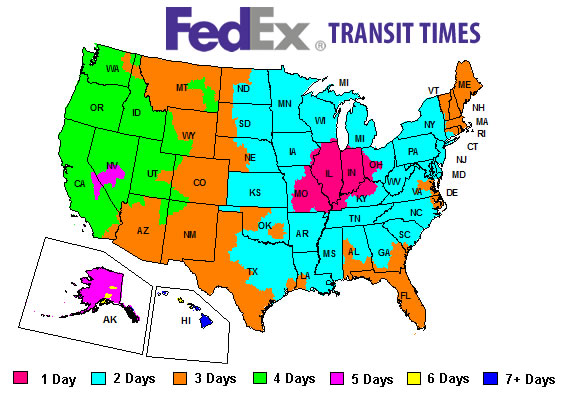 GETTING AN ORDER FASTER
If an item has free shipping, it ships via FedEx Ground, FedEx Home Delivery, or USPS Mail at our discretion. We also offer quicker shipping options which include FedEx Priority Overnight (1 Business Day Delivery), FedEx 2Day (2 Business Day Delivery), and FedEx Express Saver (3 Business Day Delivery). These options will be shown in the shopping cart during checkout along with the cost to upgrade to any of these options. Upgraded shipping options apply to business days only and do not include Saturdays or national holidays.
SHIPPING TO ALASKA AND HAWAII

Orders shipping to Alaska and Hawaii do not qualify for our FREE SHIPPING promotion. Shipping to Alaska and Hawaii requires additional shipping charges. The shipping charges and options will be calculated in the shopping cart once you have added your items to the cart and entered your address.   
Even though Hawaii and Alaska are part of the United States, shipping times to these two states typically takes 1-2 extra days to complete delivery. Upgraded shipping times are not guaranteed and those costs are not refundable.
INTERNATIONAL SHIPPING

We ship internationally via FEDEX and USPS Mail. International shipping is available to many countries including Canada and Mexico. Shipping internationally require additional shipping charges. The shipping charges and options will be calculated in the shopping cart once you have added items to the cart, chose your country, and entered the address. The prices include the shipping charges only! You will be responsible for any and all duties and fees charged by your country to get the products across the border.