PondPlus+ PO2 Pond and Lake Aerators
---

BOTTOM AERATION - THE MOST EFFICIENT WAY TO AERATE A POND
All of our PondPlus+ P-O2 systems are considered bottom aeration systems. Bottom aeration utilizes an air compressor that sits on the shore, self-sinking airline that lays on the bottom of the pond, and a weighted diffuser that introduces oxygen from the floor of the pond. There are many benefits to a bottom aeration setup over a fountain type aerator that include no electricity or wires in the water, oxygen is introduced at the bottom of the pond where it is most used and needed, and the pond floor level mounted diffuser creates a boiling action that helps with circulation and prevents water stratification.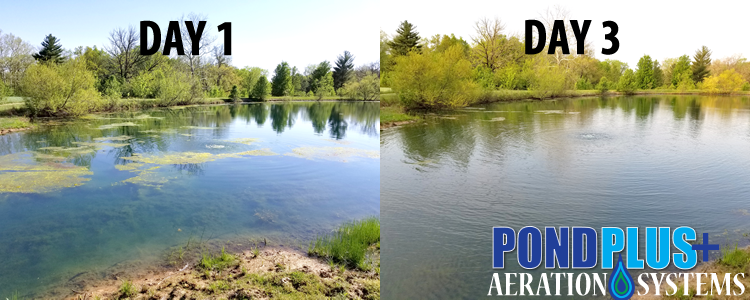 NO ELECTRICAL COMPONENTS IN THE POND
A bottom aeration system uses an air compressor that sits on the shoreline of the pond. This is the only piece of electrical equipment utilized in the system. Fountain aerators require an electrical cable to be ran from the fountain in the center of the pond back to an electrical source. This electrical cord can be vulnerable to biting and chewing from fish, turtles, and other creatures living in the pond. If the cord becomes compromised this could become a hazardous situation. Best case scenario the entire system will short out. Our PondPlus+ P-O2 systems require NO electrical equipment be installed in the water.
OXYGEN IS NEEDED MOST IN THE POND DEPTHS

The bottom of a pond contains the coldest, darkest, and least oxygenated water. This is where fish feces, dead leaves, and anything that dies in the pond falls and begins to decompose. This decomposition process releases gases that can become trapped in the cold dark depths of the pond. These gases leave little room for oxygen and can make these depths a desolate place for fish and organisms to live.
Adding aeration to the bottom of the pond will accomplish three major objectives:
The boiling action created by the bottom diffuser will lift these gases created by the decomposition process to the surface and allow them to escape the pond to the atmosphere.
With the bad gases released to the atmosphere there is now more room in the water to raise the dissolved oxygen levels.
Fish and organisms can now use the entire depths of the pond because the pond is completely and properly aerated.
PREVENTS WATER STRATIFICATION AND POND TURNOVER
Water stratification, or thermocline specifically, occurs when water masses with different tempartures form layers that act as barriers to water mixing. This is the most common cause of a pond turnover event that can kill all of the fish in a pond. Adding a bottom aeration unit to your pond will create a boiling and circulating action up and down the entire water column that continually mixes the warm oxygen-rich water at the surface with the cold oxygen-depleted water at the bottom. This type of aeration will prevent water stratification and pond turnover events.