Simplex Sewage Lift Stations & Pump Systems
---
Our Simplex Pump Stations are custom built to our customers' site specific needs. Therefore it is considered a "Custom Product" and cannot be returned for a refund. See our Return Policy for more details
RESIDENTIAL AND COMMERCIAL LIFT STATIONS
The pump stations offered by Septic Solutions can be used for residential, commercial, and light industrial applications. We offer lift stations for sewage (black water), effluent (grey water), and drainage water (clear water) removal.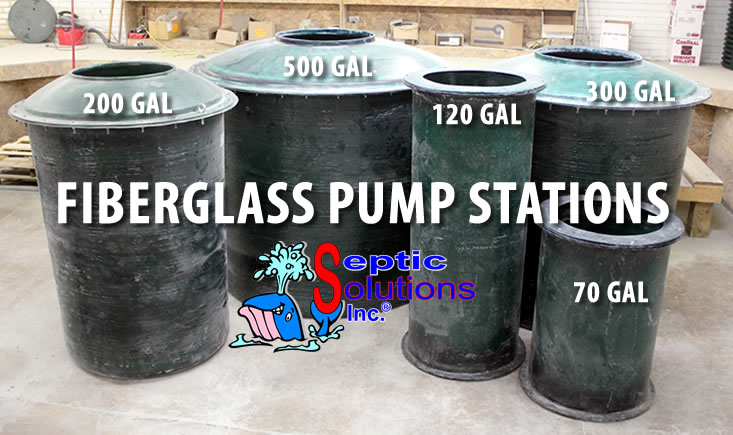 SIMPLEX PUMP STATIONS
The term Simplex Pump Station indicates a lift station with a single submersible pump. We build our pump systems with Liberty and Little Giant submersible sewage and effluent pumps. Our fiberglass pump vaults come in 70 Gallon, 200 Gallon, 300 Gallon, and 500 Gallon sizes. We also have polyethylene plastic basins available in 100 gallon and 140 gallons. Septic Solutions builds the pump station to order, so we can use any combination of pump and fiberglass or poly tank.
Both the fiberglass and polyethylene pump vaults are strong for direct burial without any special fill, but are lightweight and easily handled by a person or excavator. This makes for very easy installation. When you receive a simplex sewage lift station from Septic Solutions, it is completely assembled and ready to install.
LIFT STATION DESIGN FEATURES:
Little Giant Submersible Sewage or Effluent Pump
Cast Iron Pump Housing with Epoxy Coating For Corrosion and Rust Resistance
Oil-Filled Motor Housing for Lifetime Lubrication and Rapid Heat Dissipation
Heavy Duty Fiberglass or Polyethylene Pump Vault
Sealed Water Tight and Gas Tight When Properly Installed
Includes 4'' Inlet Hole with Rubber Grommet Seal
Includes Sealed Discharge Hub
Durable Polylok Access Cover with Handles
Comes Completely Assembled with All Internal Plumbing and Floats Mounted